Welcome to Giraffes, Panthers & Zebras Blog
This area is where we share our class work and experiences with the wider community. We aim to publish a post on a regular basis showcasing our work and we welcome feedback. Please be aware that as our blog is accessed by people of all ages, comments left will need to be approved before being published so you may experience a slight delay before you see your comments on the blog.
KS1 Christmas Story December 2020....
https://www.youtube.com/watch?v=3kyuBrJ-9JU&feature=youtu.be&safe=active
Coke and Mentos experiment
Posted: Jun 19, 2017 by: Sarah Cobb (scobb) on: Giraffes, Panthers & Zebras
Whilst the other year group were at the Forest School site, we decided to have some science fun!
Mrs Cobb laid out a big bottle of coke, a small bottle of water, an empty bottle and a bag of mentos. She gave the question: 'What could we do?'
The children had some brilliant ideas but we decided to pour coke into the empty bottle so we had the same amount of water and coke (to keep it fair). But as we opened the big bottle of coke, we noticed a loud fizzing noise; carbon dioxide!
After making predictions, we put two mentos in each bottle and watched to see what happened...ask your child what they saw! They now have some brilliant ideas to try at home:
What would happen if you used more mentos?
What would happen if you used other fizzy drinks?
What would happen if you used a 'mintier' mint?
What would happen if you used more liquid?
We did remind children to ask a grown ups permission first...and to make sure it's done outside!!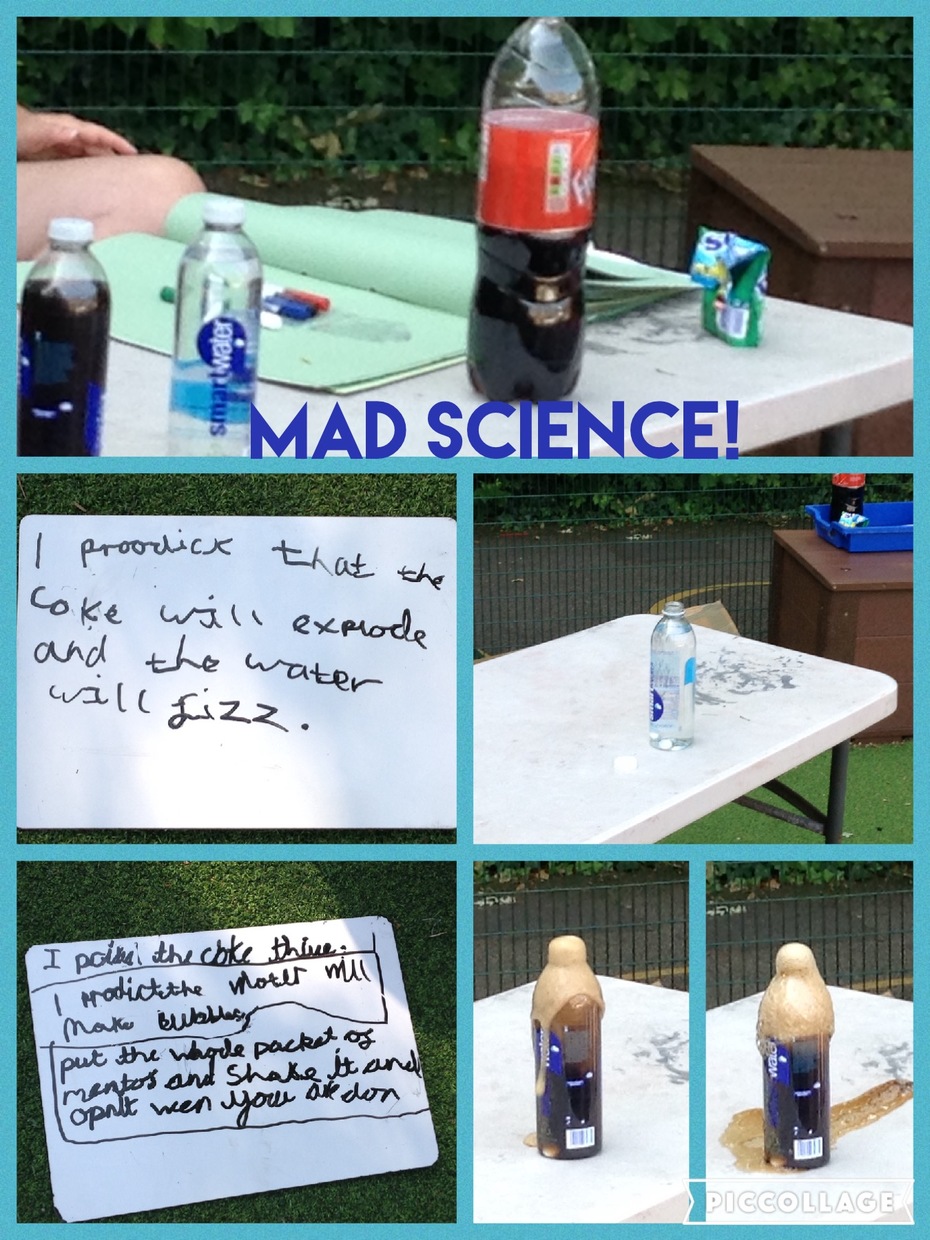 0 comments
No one commented yet.