Pupil Premium Allocation
Under current government regulations all schools receive additional funding called Pupil Premium Grant (PPG), which is calculated using the number of children eligible for Free School Meal (FSM). This includes children who have also been eligible in the last six years. Also included in this calculation are children who are currently in care, and those adopted from care together with children whose parents are in currently in the forces or have been in the last 5 years, known as Service Children.
Despite the calculation involving the number of children receiving a FSM, the additional financial support on offer does not have to be spent solely on these children. We currently receive approximately £40k from PPG; we achieve best value from this income, also providing additional support by putting in extra funds on top of this to ensure the provision is a success with a positive impact on learning for all children. We have set out below how this income is spent and its impact on raising standards.
Our Key priorities
To raise the attainment and accelerate progress of Pupil Premium children so that it aligns with that of non-Pupil Premium children.

To develop a whole school approach to supporting Pupil Premium and other vulnerable children to ensure that they are able to engage fully with all aspects of school life.
To facilitate this, we consistently focus on ensuring that all children benefit from outstanding teaching and learning. In addition, targeted intervention and support strategies are deployed in order to:
Improve levels of attainment and progress and diminish the difference between groups of children.

Enhance reading, writing, mathematics and Speech and Language skills.

Provide social and emotional support to minimise barriers to learning.
We employ a trained Emotional Literacy Support Assistant (ELSA) who delivers targeted support to individuals and small groups. We also link up with families through our 'Connect Project'. This is aimed at improving attendance and meeting the learning needs of Pupil Premium children. Our link with a local church means that we are able to provide furniture, goods, bedding and clothes to families who are struggling to make ends meet.
We have made significant investments in both physical and on-line resources and materials to ensure we make the best possible provision for our pupils, including those eligible for the Pupil Premium Allocation.
Allocation of Pupil Premium Money 2016/17 - The school received approx £41,750 for Pupil Premium pupils, a summary of spending can be found below:
Allocation of Pupil Premium Money 2017/18 - The school will receive approx £40,920 for Pupil Premium pupils.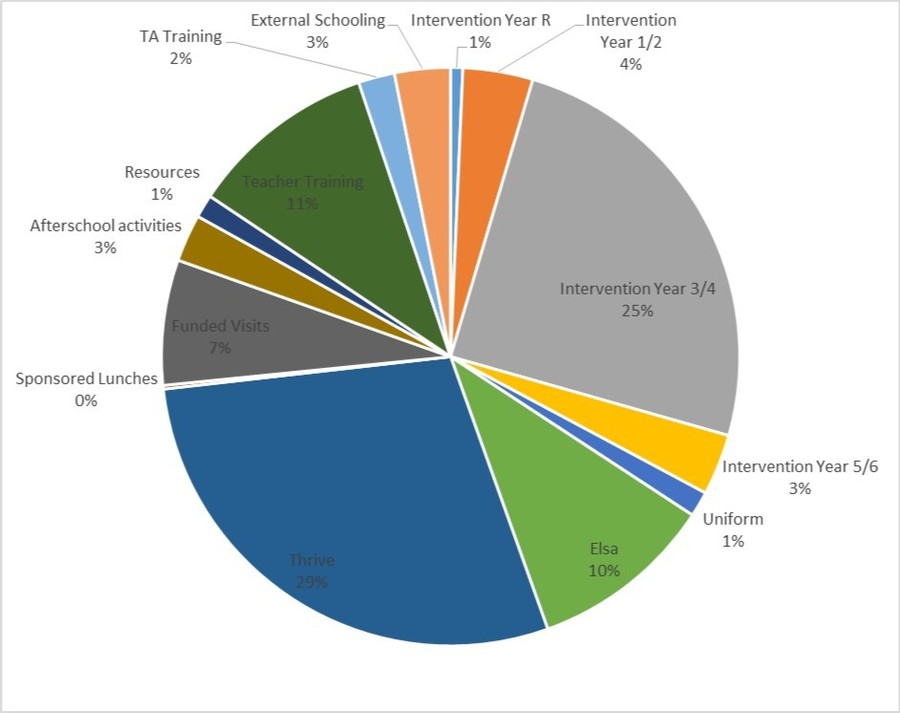 Impact
Attainment and Progress
As a direct result of the support and intervention outlined above the attainment gap between Pupil Premium and non-Pupil Premium pupils narrowed in 2015/16
Average points progress made by PPA children (expected progress is approx. 11 points across Key Stage One - Years 1 & 2 and 12 points across Key Stage Two - Years 3 - 6.
Working at Age Related Expectation = ARE Working at Greater Depth = GD
Attainment KS1 (4 pupils)
Reading
Writing
Maths
Phonics
ARE
GD
ARE
GD
ARE
GD
Yr1
Yr2
Bransgore School
67%
0
100%
0
100%
0
100%
National
The table above shows that pupils in receipt of PPA are making average progress overall but we need to close the gap for those children who have just complete Key Stage One, particularly in maths and writing.
Attainment KS2 (8 pupils)

Reading

Writing

Maths

Gaps

Combined RWM

ARE +

GD

ARE+

GD

ARE+

GD

ARE+

GD

ARE

GD

Bransgore School

60%

0

60%

0

40%

20%

60%

40%

40%

0%

National

77%

29%

81%

21%

80%

27%

82%

35%

67%

11%

Average Score

School

National

School

National

School

National

School

National

100.8

105.3

N/A

N/A

101.2

105.3

104.4

107

Progress Score

School

National

School

National

School

National

School

National

-4.34

0

-4.71

0

-3.72

0
When comparing pupils in our school there is still a gap between those pupils in receipt of PPA and those who are not. However, pupils in receipt of PPA are attaining above the nationally expected in reading but as shown above we need to close the gap in writing and maths.
Other indicators
Attendance: There has been an improvement in the attendance of identified Pupil Premium children where attendance was identified as an issue. The 'Connect' Project has resulted in previous poor attendees becoming eager to get to school, which has had a huge positive impact on their learning. Inclusion: Subsidised curriculum trips and after school activities have enabled Pupil Premium children to have access to enriched learning opportunities.
We write case studies of those children where strategies have been effective so that we can refer to these as evidence and to inform us when making decisions for upcoming pupils who may have a similar need or face similar barriers to learning.
Priorities for 2017/18
This year we are looking carefully at the needs of our children in order to prioritise Pupil Premium spending in a sustainable way and to target Year groups where there are the most significant gaps in attainment. In addition to continued subsidising of trips and clubs, we are now spending Pupil Premium money on:
Training for Teachers and Teaching Assistants to ensure that we are giving the most effective, up to date support to enable Pupil Premium pupils to narrow attainment gap such as through the training of staff to deliver "Catch Up" literacy and numeracy interventions to accelerate progress.

Training of staff to deliver the Thrive programme and interventions, understanding and tackling children's emotional needs in preparation for learning to diminish the difference between pupils.

The purchase of Clicker 7 software to support our pupils falling behind in reading and maths.

Training and resources for Speech and Language delivered in enhancement and the assessment to help identify pupils with Speech and Language needs.

Targeted support for individual children to enable them to make expected progress in maths and English through small group interventions and innovative teaching and grouping.

The purchase of "Meemo" programme to help support the identified need in improving short term and working memory.

The continuation and strengthening of our health and education partnership with local GP surgeries in order to support children and families where family health is having an impact on attendance and wellbeing.

Funding after school activities for those pupils whose social and emotional needs require support.

Funding swimming and other school trips and visits.

Purchase of reading materials from "Project X" reading programme for pupils to read at home and school.

Investment in a whole phonics programme to raise writing outcomes for all but for our Pupil Premium children in particular.

Purchase of specialist software to plan and track interventions for vulnerable pupils to diminish the difference between pupils.

Purchase of school uniform, P.E kit and equipment as required to ensure PPA pupils have equal access to school.

Development of the peer mentoring and 'Reading Buddies' programmes.

Introduction and development of 'Growth Mindset' with all children but in particular those identified using PASS software analysis.

Introduction of Sensory Circuits programme to support children with attention and sensory deficiencies to prepare them for the days learning.